Consolidating synergy between Belgian and Romanian social street workers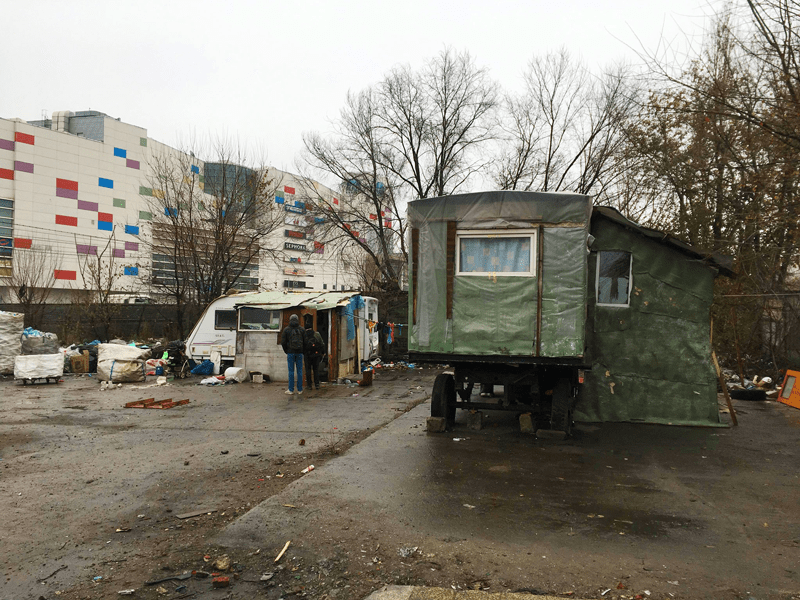 The Parada Foundation is a member of the International Network and coordinates the Romanian SWs platform, which aims to strengthen the professional skills of SWs working with street populations, and to raise awareness of the need to recognize street social work as an essential profession in the face of the impact of crises.
These missions are consolidated thanks to funding from the COCOF for projects providing direct support to a front-line actor and international cooperation projects for the exchange of practice between Romanian and Belgian SWs. This funding enables DISWN to strengthen the actions of the Parada Foundation, a based line organization working with populations that are heavily impacted by social inequalities, have little access to fundamental rights, and are in situations of extreme precariousness and vulnerability.
Direct support for a based line organization – 2022
In 2022, Romania's SWs were faced with new challenges, brought on by the war on Romania's doorstep, in the Ukraine, and the massive influx of Ukrainian refugees. More than 2.5 million Ukrainians have crossed Romania's borders since the start of the conflict, with almost 100,000 settling in the country. These are often fragile populations, lacking resources: mothers with children, the elderly, unaccompanied minors and disabled people. Faced with this situation, the SWs of the Romanian platform found themselves on the front line. Language barriers, multiple needs, urgency, late and inadequate response from public authorities, lack of training – all of these were immediate challenges for the Romanian SWs, who were not able to forget their usual audiences. The combined effects of the Covid-19 crisis and the Ukrainian refugee crisis severely tested a profession faced with a chronic lack of resources and recognition. Romanian TSRs were forced to innovate and reinvent themselves.
Parada organized 3 meetings between Romanian SWs members of the national platform and social stakeholders  and local authorities, focusing on specific themes.
Participants : General Directorate of Public Assistance and Child Protection for the 6 sectors of Bucharest, Save the Children, Samu Social Romania, L'association Pe Stop, ARAS, FONSS, CARITAS, You-Hub.
Discussions during the three workshops focused on : the situation of young people who have reached the end of their institutionalization period, the situation of families squatting in Bucharest (an increasingly numerous group), as well as the situation of young street users (a phenomenon that is constantly on the rise). The workshops also included meetings with some of the local authorities responsible for these issues. The final workshop focused on the Ukrainian refugee crisis and the way it has been tackled in Romania, giving rise to a reflection on the place and role of SWs in this new context, and on the challenges ahead. Minutes were drawn up at the end of each workshop, the last of which gave rise to a comprehensive report on the situation of the reception of Ukrainian refugees in Romania and the challenges ahead, from the point of view of social operators in the field.
As a result of these exchanges, it was felt important to make the meetings between SWs, public social assistance professionals and NGOs permanent, to be held every three months and whenever necessary, in order to assess the evolution of situations on the ground, exchange practices, share experiences, communicate and get to know each other better.
International cooperation project for the exchange of practice between Romanian and Belgian Street Workers 2022
DISWN was able to help build TSR capacity thanks to COCOF funding for this project.
Mission to Belgium: Parada director and 1 Romanian street worker in Brussels
Field visits and exchanges of practice with services and associations active in welcoming and supporting Ukrainian refugees; ROM populations; drug users; victims of human trafficking; Samu Social Belgique; Croix Rouge de Belgique; Médecins du Monde; Le Foyer; Rom en Rom; DUNE and le Clip; ECPAT and PAG-ASA.
The director of Parada emphasizes "… that he appreciated the mission and noted that he was able to observe very relevant practices for welcoming and supporting refugees, particularly during the marauding with Samu Social. Certain elements could be integrated into our approach in Romania.
The Romanian SW emphasizes "… the contacts we have made will be useful to us, as with PAG-ASA, who invited us to follow their training courses… It's a question of seeing good practices elsewhere, the importance of exchanges, of shared knowledge…".
Current situation, evolution of the refugee situation in Romania, and the Parada intervention
Mission to Romania: 2 Belgian SWs from Dynamo International and Dynamo AMO in Bucharest.
Field visits and exchanges of practice with social workers from various sectors: PARADA Foundation – participation in a social circus activity with street youth and marauding in several neighborhoods; Bébé Bucaresti; ARAS – Romanian Anti-AIDS Association and its harm reduction day center for drug addicts (Arena and Titan); CARUSEL mobile harm reduction service, care for drug addicts and visit to the Day Center for Ukrainian refugees; SAS waiting room for Ukrainian refugees at Bucharest North Station; tour of neighborhood inhabited by a Roma community.
The SW emphasize, "This exchange has given me renewed motivation in my practice and a deeper knowledge of the culture of the Romanian public I meet in Brussels, as well as a better understanding of the other types of users present on the street." "Parada's SW proves that there's no age limit for street work – you just need to be passionate about your craft." "It's important to see other realities in terms of street work, it motivates and we realize that this mode of action is practiced all over the world and that it bears fruit."
Meetings between SWs at both national and bilateral levels have a real impact on reciprocal professional practices, and reinforce the recognition of street work as an essential profession benefiting socially excluded populations.  The Romanian and Belgian workers are really pleased to have benefited from this financial support and are very satisfied with the quality of the exchanges of practice between peers. They note that the diversity of the social players they met and the exchange of different experiences were both professionally and personally enriching.