Street social work promotes "parental responsibility" on street children.
Article written by Roger OUENSAVI, Social street worker / GRES BENIN, Coordinator of PBTSR-BENIN
On Friday December 20, 2019, joy of the community confirmed that poverty is not a fatality in the town of Zouzonssa, Ouassaho district (Bohicon commune) in Benin. With fewer contributions than previous editions, the children of the kindergarten «Eveil Précoce» supervised by the team of GRES BENIN and their parents took advantage of the arrival of a couple «Father and Mother Christmas» to receive gifts and share a community meal with other groups of older, including children with disabilities.
Every year since December 2016, children, parents, the whole community of Ouassaho (Zouzonsa) organize in a participative symbiosis the Christmas party with gifts. For the first time, the arrival of a couple of « Father and Mother Christmas" confirms that parental authority rests with both the father and mother and that gender equality (SDG 5) must also be achieved in all circumstances. As part of our awareness-raising activities, follow-up/advice against gender-based violence in rural areas, about thirty female apprentices (14-20 years old) practicing in hairdressing and sewing salons are also committed to learning their rights and obligations since February 2016.
One of the hairdressers agreed to dress "Mama Christmas" in her living room, which is a five-minute walk from the party and community kindergarten. Garlands were made by the team of «Child Peer Trainers» of the project «facing of violence against children we have the word! ». They will illuminate our future community socialization space for children and the community offered by dignitaries and customary leaders in November 2019.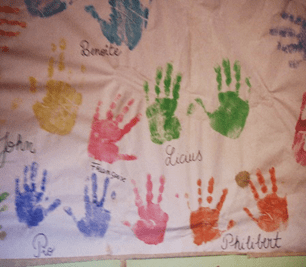 We are very grateful to Miss Joanna Fratczak, specialized student educator in 2019, who has been of great help to us through her services, including the poster below bearing the signature of the kindergarten children of the SAJE center in Bohicon.
Street social work promotes "parental responsibility" (Article 18 and paragraph 48 of the United Nations General Observation No. 21-2017, inclusion and respect for gender equality ODD5 and 10) on street children).