Meeting of young changemakers for the 2024 European elections
Myrtille, ADICE volunteer, has joined the Network team and is participating in the YEUF project as an actor of change!!!
As part of my civic service with ADICE, I started volunteering on May 8 as part of the technical team of the Dynamo International – Street Workers Network. 
For my first week, I had the opportunity to participate in a three-day training course in Aachen, Germany, as part of the European project Youth Empowerment Universal Franchise (YEUF) which aims to train young actors for change, to raise awareness among other young people in view of the 2024 European elections. I was accompanied by Francesco, the project manager, Nick who did an internship in Dynamo, and Diane, a «former young» very active in Dynamo.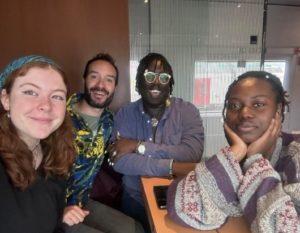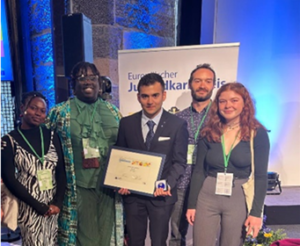 It was an opportunity for me to meet many people from different countries, which created very enriching conversations about our cultures, our backgrounds, our commitments, and our experiences.
I enjoyed exchanging with all these people during this stay. Realizing that the new generations are motivated to make a difference and to fight for the social values they believe in has been very motivating and has created a great group cohesion.
We participated in several activities that allowed us to talk about our world view and political situations, economic and social issues in our respective countries we also talked about as issues that we believe should be more and better considered by the European Union, such as the situation at the borders and the exiles in Europe, youth mental health, precariousness, etc.
We also attended the Charlemagne Youth Award ceremony, which recognizes projects created by young people. It is the Belgian association that won the prize this year with their AILEM application, which makes translations and thus help the exiled people in their integration.
Each project had a strong message, and it was very inspiring to see all these committed people making a difference in their countries on their own.