European Union – Latin America and the Caribbean Forum, Brussels, 13 and 14 July 2023
The results of the EU-LAC relationship are expected to translate into increased investment in education, digital citizenship and the participation of children and youth.
The EU-LAC Forum focused on youth, with the aim of exchanging views and experiences in an inclusive manner and analysing the possibilities for a sustainable and inclusive future in both regions.
Brussels – Belgium, 13 July 2023
The Consortium for the empowerment and participation of children and young people (#CCYEP) held the roundtable "Effective participation and digital citizenship of children and young people in the European Union and Latin America" as part of the advocacy actions at the EU-CELAC Summit. Addressing issues such as Digital Citizenship and protagonist participation from a human rights approach is, more than ever, fundamental to close the gaps.
The European Union organised the EU-Latin America and the Caribbean Forum, which will include the participation of young people, civil society and local authorities. This event is organised in the framework of the EU-LAC Days, the parallel events to the Third EU-CELAC Summit, which will be held on 17-18 July 2023 and which will bring together EU leaders and leaders of the Community of Latin American and Caribbean States (CELAC) in Brussels. One of the key objectives of the EU-CELAC Summit is the elaboration of the EU-LAC Global Gateway Investment Agenda [1], which represents the political commitment to work together in Latin America and the Caribbean.
As part of its advocacy actions, the Consortium for the empowerment and participation of children and young people (#CCYEP) held this roundtable with the aim of generating recommendations to states on this issue, so that they can be considered in their public policies aimed at children and young people.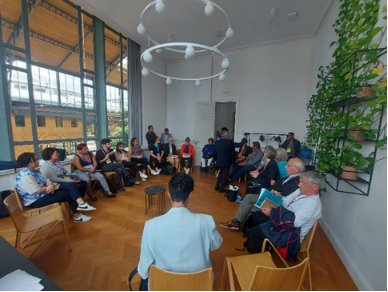 During the presentation, Juan Martín Pérez García, Coordinator of Tejiendo Redes Infancia in Latin America, considered that, after the pandemic, the use of new technologies increased in some social groups. "We are at a time of increased connectivity for children and young people and at the same time of a generational transition. She pointed out that children are hyper-connected, especially in cities, so adults are experiencing a generational tension, which is why working on this issue from a human rights approach is fundamental. "A bridge in this intergenerational dialogue could and should be human rights, particularly the rights of digital citizenship".
Virginia Murillo, Vice President of DCI Americas and President of Defence for Children International, Costa Rica, indicated that child participation "confronts power relations and in the family and in the educational space, there are power relations in which the adult, parent or teacher feels confronted with the possibility that a minor who has always been seen in that vertical relationship may begin to think autonomously, to propose to participate, which strains those relations because the adult thinks that he or she is losing power", which is why she pointed out that it is important to begin to decode that vertical relationship. "
Jon Etxeverria, representative of Dynamo International – Street Workers Network pointed out during the importance of the combination between the digital and the face-to-face in the interactions that girls and boys carry out: "Digitalisation can help you to have friends on another continent and that is wonderful, but you are alone in your village… and we find that already very evident. The important thing would be to combine the digital with the face-to-face, in that way the power of digital participation can help us with participation in the territory".
In her speech, Sara Fratti from Fundación Avina – INDELA (Mexico), highlighted the importance of building better digital futures and understanding the way in which children and young people can really play a leading role as well as generating an enabling environment for these generations to do so, as an example of this, she considered that it is necessary for adults to understand "the role of channels such as video games that have allowed these new generations to appropriate and inhabit these spaces to live together on a daily basis".
Finally, Angie Contreras from the organisation Cultivando Género (Aguascalientes, Mexico) considered that the context influences the relationship between young people and digital citizenship: "If we continue to see access to technology and the internet as a privilege and not as a right, then we have a limitation in terms of participation, how can we begin to build participation and digital citizenship if children and adolescents do not have access".
The overall objective of the EU-LAC Forum is to enable non-state actors to exchange views and experiences in an inclusive manner and to discuss opportunities for forging a sustainable and inclusive future for both regions. The outcome of this dialogue is expected to result both in the elaboration of a set of recommendations for the subsequent EU-CELAC Summit and in closer cooperation between non-state actors and youth organisations in both regions thereafter.
Video: https://www.facebook.com/OllinTv/videos/1422388708583224
 [1] Global Gateway es la oferta global de inversión de la UE a sus países socios para impulsar conexiones inteligentes, limpias y seguras en el sector digital, energético y de transportes y reforzar los sistemas de sanidad, educación e investigación.
Brussels 14 July 2023 
"Education and skills development. Bi-regional collaboration to democratise the use of technology and achieve equality and inclusive education".
Session organised as part of the EU-Latin America and Caribbean Forum: "Partners in Change: Youth, Civil Society and Local Authorities" ahead of the third EU-CELAC Summit 17 and 18 July 2023.
One of the central themes of the session was how to ensure that the participation of children and young people is institutionalised and moves from being a decorative or symbolic issue to being duly taken into account and becoming a key point in the education policy-making process.
"This meeting reflects the urgent review of the EU-Latin America relationship, which must be translated by the States into investment in which this bi-regional relationship is based on what has already been previously built, such as the Sustainable Development Goals (SDGs), Human Rights and other normative components of the international framework," said Juan Martin Perez, Regional Coordinator of Tejiendo Redes Infancia.
During the session, co-organised with Tejiendo Redes Infancia in Latin America and the Caribbean and the Alliance of Organisations for Effectiveness and Development (AECD), representatives from the European Union and civil society organisations in Latin America and Spain participated, as well as members of the Consortium (#CCYEP), Virginia Murillo, in charge of moderation; Jon Etxeverria and Juan Martín Pérez.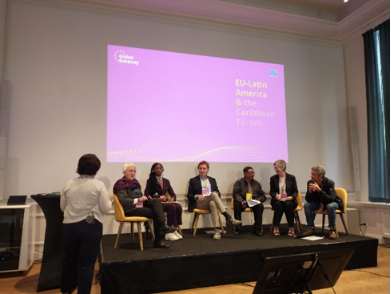 Jesús Gamallo Aller, Director General of External Relations and European Union, considered that financial support is as important as the exchange of experiences and good practices, to overcome the digital divide "this is what the concept of global citizenship tells us, to make a real space for higher education, science, technology and innovation between our two regions, that would be for me one of the fundamental conclusions to convey to the heads of government who are meeting next week".
In his intervention, Jon Etxeverría of Dynamo International-Street Workers Networks, pointed out that it is essential that, as part of the development of skills, education and the construction of digital citizenship, girls, boys and young people can "resignify reality, guaranteeing meaningful, collective experiences, related to presence, to the body, to the collective". Regarding participation, he said that it represents a great challenge "since it is necessary to make much more concrete policies (…) participation is learned, for this we must create the contexts that allow it, we must dedicate time, effort and resources".
Virginia Murillo from Defence for Children International, Costa Rica, highlighted among the conclusions of the panel, that the context in which children live, and conditions such as poverty, organised crime and drug trafficking, patriarchal patterns, among other factors, have a high impact on children's education. He also pointed out the importance of defending face-to-face education, which had been violated due to the context of the pandemic, resulting in the exclusion of those who did not have access to technology to continue with their classes.
Finally, Juan Martín Pérez, pointed out a strong insistence on reviewing the essential principles and the meaning of education, from the framework of the SDGs, human rights and digital citizenship. He said that another important element to analyse is exclusion and the risk that the education system continues to be a way of maintaining inequality gaps and reproducing inequalities, "without a doubt, the digital world and digital citizenship run this great risk of being one more element of exclusion where we talk about connectivity, the quality of connectivity or the predominance of commercial interests over the essential principles of education".